Heb jij er, net als veel anderen, wel eens van gedroomd om je eigen kleding te ontwerpen? Dragen van kleding die precies is ontworpen zoals jij dat het liefst zou zien. Je kunt zelf het materiaal, de print, de kleuren en zelfs de kleinste details geheel naar wens ontwerpen en laten produceren. Hoe vet is dat? Er zijn altijd een paar stappen die je kunt volgen wanneer je een kledingstuk wil ontwerpen. Van de tekeningen tot de kledinglabels: niets mag worden overgeslagen!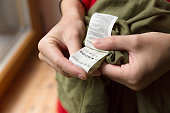 Van inspiratie tot een ontwerp
Jouw idee voor een kledingstuk zal waarschijnlijk zijn ontstaan vanuit opgedane inspiratie. Laat je inspireren door de natuur, tijdschriften, reclames. Alles kan inspiratie zijn! Vervolgens is het tijd om een ontwerp uit te tekenen. Wat voor kledingstuk wil je maken? Hoe wil je dat de stof om het lichaam valt? Vervolgens kun je de tekening verfijnen door kleuren en details toe te voegen.
Je kunt het best beginnen met het maken van een prototype. Dan zie je hoe het kledingstuk er in de praktijk uitziet. Het toevoegen van kleine details kunnen jouw product er een stuk professioneler uit laten zien. Denk hierbij bijvoorbeeld aan het toevoegen van geweven labels of kledinglabels. Waarschijnlijk heb je weleens een kledingstuk met geweven labels in de winkel gezien. Zulke labels zien er erg professioneel uit, omdat het er eenmaal luxer uitziet dan een bedrukt label, of zelfs helemaal geen label. Je kunt het kledinglabel zo ver personaliseren als je wil.